The Most Important Gay Porn Film Ever Made?
I've had this bookmarked to read for about a week now and finally got around to it this morning. An interesting discourse and something about the seemingly legitimate honesty in recapturing differing frames of perception on transgressive culture and the porn industry was particularly noteworthy for me. I think this article provides evidence of how conversations are and perhaps should be developing as we beat the drums of alternative lifestyles and navigating areas where ethics has dared not tread so much yet. 
——
The annual Folsom Street Fair in San Francisco is noted for its unbridled embrace of every star in our sexual constellation. Even the fearless leather community, which founded the event, can sometimes appear tame amidst the outlandish kinks and clothing — and lack thereof — on display along the city's tilted streets.
In the fall of 2003, in the middle of this rowdy bacchanalia, Paul Morris stood at the booth for Treasure Island Media (TIM), the gay porn outfit he founded that featured unprotected sex (barebacking) between its actors. This particular specialty was the singular driving force behind his smashingly successful and relatively new company.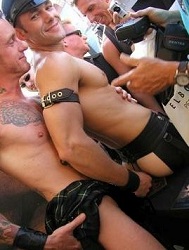 Then, like the legend of Lana Turner fortuitously cozying up to the counter at Schwab's, a beautiful and achingly masculine young man approached the TIM booth. He liked the TIM videos — he liked them very much indeed — and he hoped to one day document a few fantasies of his own. TIM star Jesse O'Toole was on hand, and someone snapped a photograph of the two of them together (right). In it, the grinning young man with a leather cap appears to have found his long-lost tribe, and O'Toole looks as if he has found a seven-course meal.
The photo was sent to Max Sohl, a sometime porn actor with a theater background whom Morris had commissioned to conceive and direct what would be Sohl's first porn film. Sohl met with the aspiring model and asked him to complete a form that included a simple question: "What is one of your fantasy scenes?" In response, the young man wrote simply, "Me getting nailed and seeded by a gang of hot guys."
"The Black Party was coming," Sohl explained in a recent interview, referring to the annual New York City weekend of leather men, parties, and sexual adventures, "and I thought, 'OK, let's see how many men he can take.'"